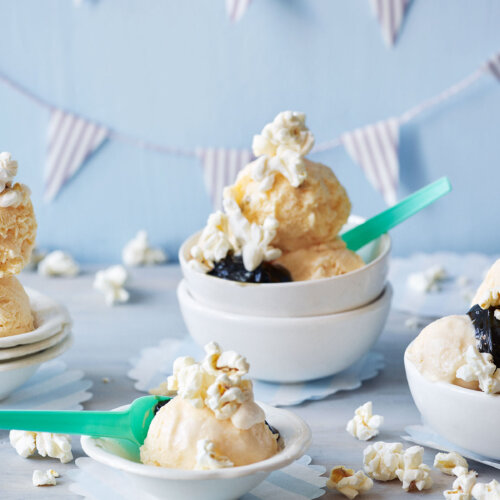 Popcorn ice cream with liquorice sauce
In this recipe salty and sweet meets. Enjoy delicious and easy popcorn ice creams with liquorice sauce.
Ingredients
1

large tin (3 1/3 dl) double cream

5

dl

full fat milk

1/2

tsp

salt

4

room temperature egg yolks

1 bag microwave popcorn
Instructions
Prepare the popcorn according to the instructions on the packaging.

Combine the cream, milk and salt in a pan with a thick base. Add the popcorn and quickly boil the mix. Remove the pan from the heat and let the flavours settle for one hour.

Filter the popcorn away from the milky, creamy liquid. Squeeze all the liquid from the popcorn. Set the popcorn aside.

Whisk the egg yolks with the sugar until you get a light froth. Heat the popcorn spiced milky cream to a boil.  Pour the hot mixture in a thin ribbon onto the beaten egg yolks, whisking all the while. Place the mixture back into the pan and heat at low to medium temperature for approximately 10 minutes or until the mixture thickens. Let it cool down to room temperature.

Pour the mixture into a freezer-ready tray (of approximately 1 litre in volume). Cover with plastic wrap and place in the freezer for roughly one hour. Remove the tray from the freezer and stir with a spoon. Place the tray back into the freezer and leave it in for at least sixhours, preferably overnight. Place the ice cream in a room temperature setting for a few minutes before serving.

Serve with liquorice sauce, whipped cream and popcorn according to your taste.