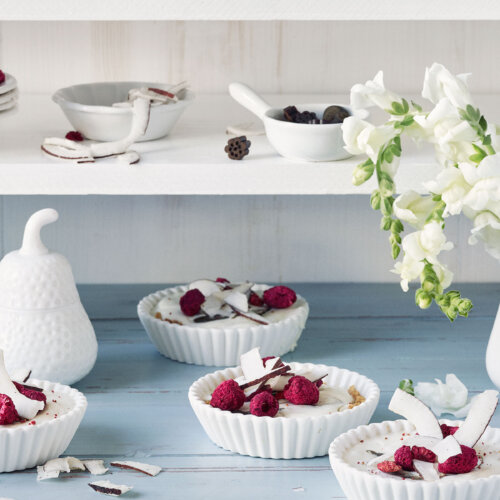 Panna cotta pie with liquorice
Indulge your taste buds in a culinary adventure with our delectable Panna Cotta Pie with Liquorice. This dessert masterpiece combines the velvety elegance of traditional panna cotta with a surprising twist of rich liquorice flavor. Creamy, dreamy, and utterly irresistible, this treat promises to be the star of your next dessert table.
Ingredients
For the base
175

g

biscuit crumbs, e.g., oat biscuits

100

g

melted butter
Filling
6

gelatine leafs

2

dl

full or semi-skimmed milk

4

dl

double cream

2

dl

sugar
Decoration:
fruits, berries, and coconut flakes
Instructions
Crush the biscuits. Add the melted butter to the biscuit mix. Compress the mixture into the base of small trays (8 cm in diameter) or a bigger tray (24 cm in diameter) with a removable base. Bake at175 degrees for 10 minutes or until the base is a lovely golden colour. Let it cool down to room temperature.

Place the gelatine leafs in cold to lukewarm waterfor 5 minutes.

Measure the milk, cream and sugar into a pan. Heat the cream mixture, blending all the while until it nearly reaches a boil. Before the boiling point, remove from heat. Squeeze the gelatine leaves and add the dry leaves and mixture. Let it cool for approximately 15 minutes.

Scoop liquorice sauce onto the base of the pie. Pour on the filling. Cover with plastic wrap. Move it to a cool place and let it thicken (this will take at least 2 hours).

 Place the decoration of your choice on top. Serve immediately.
Notes
This pie tastes best on the day of preparation, when the base is still crunchy and isn't overly soaked by the filling.