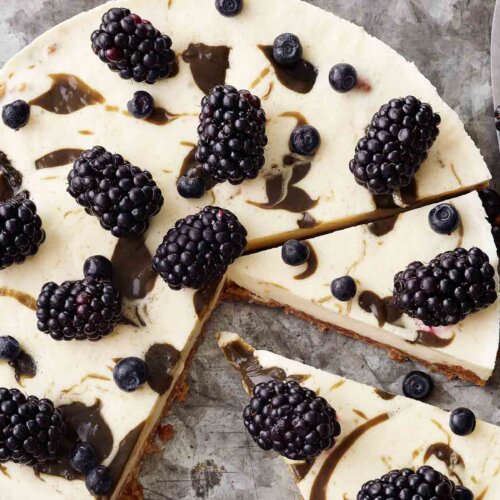 Cheesecake with liquorice marble pattern
Step into a world of flavor with our Cheesecake, highlighted by a mesmerizing liquorice marble pattern. A dessert that's as visually captivating as it is deliciously crafted, ensuring every slice is a masterpiece. A fusion of creamy indulgence and bold design awaits you.
Ingredients
200

g

oat biscuits

80

g

butter
Filling:
3

gelatine leaves

2

dl

double cream

2

tsp

vanilla sugar

1

jar (200 g) of natural cream cheese

1,5

dl

powdered sugar
Topping:
Instructions
Crush the biscuits. Melt the butter and mix it in with the biscuits. Place baking paper in an oven tray with a diameter of 18 cm. Place the biscuit crumbs on the baking paper and compress tightly. Place the tray in the fridge for 15 minutes.

Soak the gelatine leaves in slightly cold water for a couple of minutes. Gently and carefully heat 1 dl of cream in a pan. Squeeze excess water out of the gelatine leaves Place the gelatine with the warm cream. Mix until the leaves dissolve. Let the mix cool at room temperature for approximately 15 minutes. Mix in the vanilla sugar, cream cheese and powdered sugar. Add the cream mixture with the gelatine. Whip the rest of the cream (1 dl). Add the whipped cream to the rest of the ingredients. Pour on top of the bed of biscuits.

Loosely scoop the liquorice sauce with a teaspoon on top of the cake. Put the rest of the sauce aside until cheesecake is served.

Cover with plastic wrap and let it congeal in a cool place for at least 4 hours. Serve with the rest of the liquorice sauce.