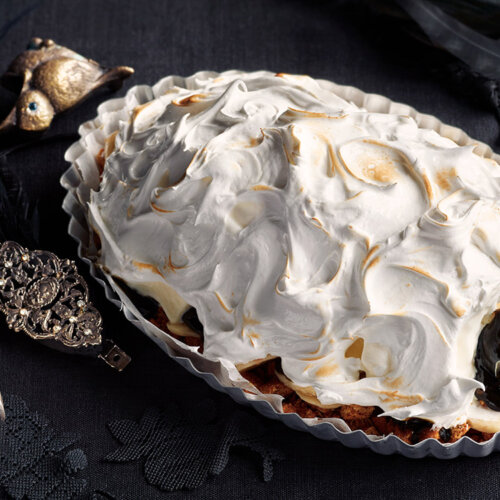 Baked Alaska
Baked Alaska is a dessert that combines ice cream, crushed biscuit base and Italian meringue. Panda's Baked Alaska recipe is of course completed by liquorice sauce.
Ingredients
100

g

oat biscuits

2

bananas

1/2

l

vanilla ice cream
Italian meringue
3

egg whites

2 1/2

dl

sugar

1

dl

water
Instructions
Prepare by preheating the oven to 250 degrees. Crush the biscuits and place the crumbs into an oven tray approximately 25 cm in diameter. Peel and cut the bananas lengthwise. Place the halves on top of the crushed biscuits. Pour liquorice sauce on top.

Make the meringue. Whisk the egg whites until they become frothy. Pour the water into the kettle, then add sugar and heat until it boils. Place a sugar thermometer in the boiling mix and heat until 120 degrees. Pour the sugar liquor into the thin end even ribbon into the egg white froth and beat all the time by hand or with a machine. Keep beating the mix until you get a very thick mixture. Keep beating and mixing until the meringue stiffens and cools down to room temperature. Spread the meringue with a spoon or squeeze it from a bag onto the pie.

Dice the ice cream into the tray on top of the bananas. Cover the ice cream by spreading the meringue on top.

Bake the top with a bunsen burner until lovely brown. Alternatively, you can place the tray in a hot oven for two minutes or until the crust is lightly brown. Serve immediately.