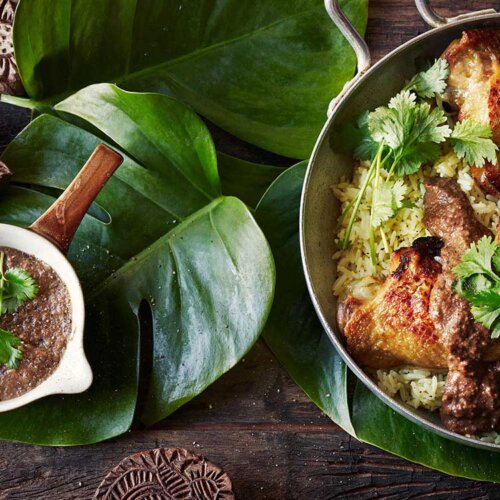 Chicken Mole
Chocolate and liquorice with chicken? Yes indeed! Try mole-broiler, i.e., Mexican chocolate chicken. This, if anything, will bring variety to your everyday meals.
Ingredients
12

chicken legs

4

tbsp

rapeseed oil

salt, black pepper

2

dl

chicken stock
Mole sauce
1/2

dl

peeled almonds

2

tbsp

raisins

1

big tomato

1

small or medium sized onion

2

cloves of garlic

2

tbsp

rapeseed oil

1/4

tsp

ground clove

1/4

tsp

cinnamon

1/42

tsp

black pepper

1/4

tsp

coriander seeds

1

tsp

dried chili flakes

3

dl

chicken stock

1

slice of toasted bread

4

pieces of dark chocolate
Instructions
Place the almonds and raisins that will go into the mole sauce in a bit of water and let them soak for approximately 15 minutes. Then drain.

Heat oil in a pan. Fry the chicken legs until they are a nice, golden brown. Season with salt and pepper. Place the chicken legs into an oven tray. Pour chicken stock onto the bottom of the tray. Cover with aluminium foil. Oven bake at 180 degrees for approximately 45 minutes.

Make the sauce while the chicken is baking in the oven. Cut the tomatoes into small cubes and de-stem. Peel and chop the onion. Heat the oil in a pan and mature the chopped onion on medium to low heat for a few minutes. Add seasoning to the pan. Continue to heat for approximately one minute. Add the tomato cubes, almonds and raisins. Continue to fry at medium-to-low temperature for a few minutes. Pour the chicken stock into the pan. Mix and let it mature for a few minutes. Pour the mixture into a blender.

Toast and cut the bread into cubes. Add the cubes to the mix. Blend until the mixture is even. Add the pieces of chocolate and liquorice. Let it all melt while mixing. Taste and add salt if needed.

Pour the mixture back into the pan. Heat and then let it sit for a moment. Serve the sauce with chicken and rice.